hifimusic.co.il

Ofer Shchori
our distributor in Israel
PRESENTS LAVARDIN

For many years, I heard about a French manufacturer of amplifiers Lavardin Technologies.
I read a bit about on the network of reports on the remarkable performance of the integrated amplifier IT
which with around 50 watts and important speakers, excels in music at a levelrare thanks to a "mysterious technology" developed by the manufacturer.

It has been created for 25 years and sold without any change,
undoubtedly a very rare situation in the audio marketTop of the line.

At the time it was launched it caused a big noise and still makes it since the manufacturer is still selling it
With a queue, almost without advertising.
Good things roll on their own.
The only thorn was that the amplifiers did not have a remote control.
From time to time I checked with the manufacturer
And I had the same answer several times - no remote control.

And then, a few years ago, I was able to listen to an IT at the Munich exhibition.
It was presented at the Marriott hotel in town and not in the MOC.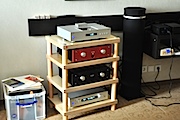 I entered the room and in no more than a few seconds listeningI was conquered.
The IT in question powered the speakers designed and produced by the Lavardin designer under another name (Lecontoure Airline).
A compact, round speaker that is stuck to the wall because it's designed to work that way.
The music flowed in the room in a kind of calm and purity that I had never heard.
Something addictive that makes you forget the system and you experience just the music
With this extraordinary depth and separation, each musician is well placed in the space of the room.
And the calm ... It took me two minutes to decide.
Fuck the remote! I sat down with JC (Jean Christophe),
A very cool man with great audio knowledge who can explain in ten minutes where is the essential,the important and the bluff in the world of high-end.

Since a few years have passed and quite quietly, without the noise and bugles of customers in the forums,a number of Lavardin's have been sold - from IS to IT-15 - a special and expensive version ofthe IT (the one with the red face).
I realized that this amplifier really drives every speaker I've triedno problem and finally I stopped to refer to his data "watt".
Simply plug in a speaker and check.
Just like IS REF, which is a smaller version. It makes all the speakers work.

One of my first clients was myself.
The AP150 - a stereo version without pre-amplifier at my house with a large speaker with six drive units and down to 2.5Ohm; he moved them without any problem. There were, however, big amplifiers at home, very expensive and very powerful ...
This amp had to stay stuck in my room forever.

All this long introduction has announced the arrival of a new generation of Lavardin.The manufacturer, as already mentioned, does not hurry to launch versions. The upgrades announced recently on a new line are:
1. Remote control
2. Spectacular improvement of pre-amplification
The manufacturer also offers cables with very low losses, which guarantees maximum use of the devices' capacities.
ITX will be on display next week.
Since there is no need to run, it will immediately enter the demo room.
The new ISx REF has already landed ... and is already sold.
Prices for the new line have not changed much.


עופר שחורי
מאסטרו אודיו
www.maestroaudio.co.il
054-3160030